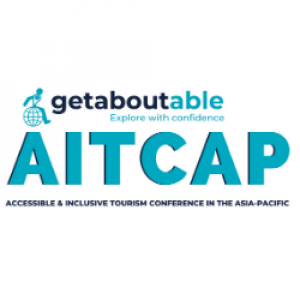 Accessible & Inclusive Tourism Conference in the Asia-Pacific
Public General
A group to keep the Conversation going strong about the only Accessible & Inclusive Tourism Conference in... View more
Public General
Reply To: AITCAP 2023 is concluded! We're sharing the Highlights and the Recordings
Member

July 9, 2023 at 3:51 am

Hi GetAboutAble,

Today I finished watching all the AITCAP online conference. It took me quite a bit, as I had some busy months, but I'm really glad that I finally did it.

First of all, I would like to congratulate you on putting together such a nice conference and great group of panelists. Even though I'm not based in the Asia-Pacific region, since I lived in Japan for a year about 5 years ago, it's a region that I've really wanted to explore more, but that I didn't know much about yet in terms of availability of accessible tourism.

Currently, I'm an accessibility consultant in Spain, for technology and software and also for the built environment. Also, as I enjoy to travel a lot, I recently started an accessible travel podcast. For all this, I was interested in your conference both from a personal and a professional standpoint.

Anyway, I really enjoyed the conference as, from a professional standpoint, I've been able to learn about resources that I can use when doing my job as a consultant in order to present the benefits of accessibility with specific figures and case studies, know about the Accessible Tourism Toolkit with great videos to start conversations and begin learning about accessibility and access the handy templates that I'll be studying to improve mine.

From a traveler standpoint, I've really enjoyed learning about accessible travel companies, projects and organizations, mostly in the Asia-Pacific region, but not only, that will be a great starting point when planning my future trips. Destinations such as Thailand, Malaysia and Australia are now on my radar, as well as tools like Wheel the World. Also, I'll definitely be keeping an eye on initiatives, such as All Wheels Up and Travel Paws and get tips from their resources from now on.

The thing is, despite taking quite some time to reply, I really wanted to let you know about my experience with AITCAP and encourage you for following editions. Keep up the good work!

Also, I learned more about your organization and even checked your open positions. If I were living in Australia, I think I would definitely enjoy working with you : )

I hope to keep seeing you around the TabiFolk community!