Lonely Planet Releases Multilanguage Accessible Travel Phrasebook
Accessible Japan is extremely proud of the part we played in this guidebook's creation.
———
Disabled people travel. It's not really surprising: as with just about everything, we're just the same as everyone else – the same hopes, fears and aspirations. (Well, perhaps a few more fears…) And don't let anyone try to tell you that it's a niche market: the World Health Organisation estimates that 1bn people – that's about 15% of the world's population – have a disability, a number which is expected to reach 1.2bn by 2020 and to double by 2050. And we now have some hard data to prove that the value of the so-called purple spend is worth a lot to the tourism industry:
a Visit England study put the value at £12.4 billion per annum in the UK
an Open Doors Organisation report put it at $34.6 billion in the US
an Amadeus White Paper came up with a figure of $70 billion for the US and EU combined
a recent Australian report estimated the domestic spend at almost $8 billion
And this is in spite of the many barriers we still face: a lower than average disposable income; a lack of suitable accommodation; heritage or natural environment tourist attractions that can't be made accessible; patchy access to public transport; insufficient wheelchair-accessible taxis and hire cars; difficulty finding accurate, reliable information; poorly trained service staff who don't understand our needs and are unaware of how their establishment may or may not cater to them; the list goes on… And this is in so-called developed countries!
I was having a conversation along these lines with Josh Grisdale of Accessible Japan (www.accessible-japan.com) back in 2015 when he asked me whether there was such a thing as a phrasebook with disability-related phrases. "No, I replied, but I've been thinking about it." Well, Josh didn't just think about it – within a week he had put up a list of useful Japanese phrases on his website. I was so impressed I asked if I might use his list as the basis for my project. With further help from Pieter Ghijsels of Visit Flanders – whose accessibility information (www.visitflanders.com/en/accessibility/) is something every destination management organisation should aspire to – I built up a list of some 100 words and phrases that we thought would assist a traveller with access needs.
Then the real work began. First, I tapped into my networks and posted on accessible travel forums to find as many volunteers as I could to translate these phrases into their native tongues. It's a testament to the generosity of people working in accessible travel – something that has never ceased to amaze me since I started on this journey five years ago – that I managed to source people to translate these phrases into 35 languages! But as any publishing professional will tell you: one pair of eyes is never enough. So I had to try to find a second person to proofread each language, which in most cases I managed to do…eventually.
The fun didn't stop there. I had a great editor who took my content and worked doggedly to combine it with existing Lonely Planet phrasebook content – pronunciation guides and basic phrases – that in many cases hadn't been updated for years: language doesn't change at the same rate as places we review in our guidebooks. Which of course led to the problem of non-Latin scripts, of which there are more than a dozen in the book, having become obsolete over the years and having to be replaced with up-to-date Unicode fonts. Then, just as we were ready to launch, the Lonely Planet online Shop commenced a major renovation of its back-end, delaying the project for another three months. Finally 2½ years after that initial conversation, we got there!
At Lonely Planet we have one core belief: that travel is a force for good if practised responsibly. Our Travel for All initiative, launched in 2014, marks a commitment to promoting access to travel for everyone, no matter what their capabilities or limitations. We want to help people with access needs to get out into the world and experience the benefits that travel has to offer.
All travellers will get more out of their trip by being able to speak a few words of the local language, but for people with a disability it's often vital to be able to explain your particular needs. As I wrote at the beginning of this article, there are plenty of barriers to travel for people with a disability – language doesn't have to be yet another. If this Accessible Travel Phrasebook encourages just a few more people with a disability to get on the road, we will have taken one more step towards making the benefits of travel accessible to all. Download your free copy of this 386-page book here: https://shop.lonelyplanet.com/products/accessible-travel-phrasebook-ebook-1
It should be seen as a companion global resource to the second edition of Lonely Planet's Accessible Travel Online Resources, containing hundreds of useful web links, also available free to download from https://shop.lonelyplanet.com/products/accessible-travel-online-resources-2017. I'm currently working on the third edition, which should be released in a few months. If you have any suggestions for inclusion, please email me at [email protected].
Finally, I'd like to take this opportunity to thank the dozens of contributors – many of whom work in the accessible travel sector and gave their time freely and generously – and to encourage you to patronise their business as a customer or seek to form collaborative relationships with your own accessible travel business.
Martin Heng
Accessible Travel Manager, Lonely Planet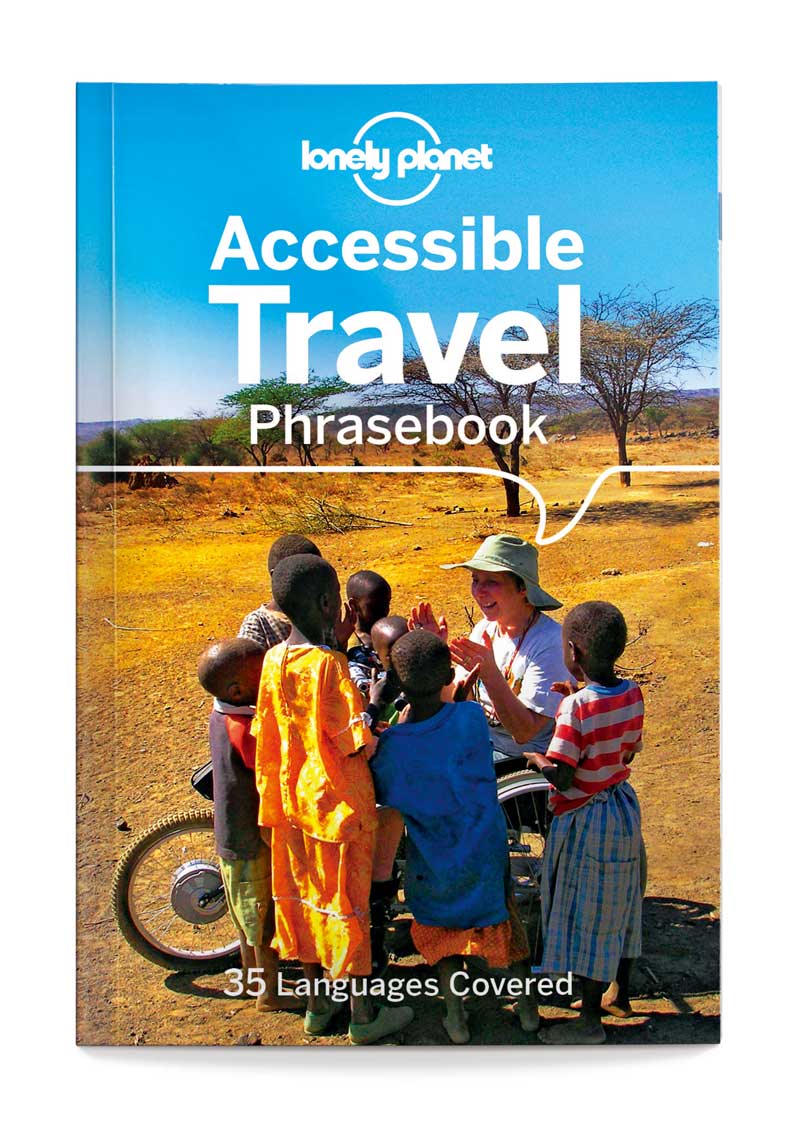 Published in Tip, Travel Goods