Accessible Javea, Costa Blanca, Spain
I know that we are all staying at home at the moment but my home is Javea in Spain and once we can all travel again, it is a great holiday destination for a wheelchair user.
We made the permanent move to Javea in July 2019. My husband Rob was injured in 1999 which resulted in him becoming paraplegic. He has a T11/12 complete break and is a full-time, independent wheelchair user. He is ferociously independent, and this has sustained him through his years in a wheelchair. We had both lived abroad previously and wanted to find a forever home somewhere warmer than the UK. We spent last ten years searching for that forever home which has everything that we could both want and need. Having searched through France, Spain and Portugal on many excursions to find that ideal accessible location, we came across Javea in 2016.
Xàbia/Jávea is located in the Costa Blanca in the Alicante region of Spain. Javea is made up of the old town, the picturesque port and the sandy El Arenal beach. It is 40 miles away from Benidorm and in easy reach from Valencia or Alicante airports. To travel to Javea from the airport taxi or car hire is recommended, although travelling by coach and bus is also a possibility. There are wheelchair-accessible taxis and if you can transfer into a taxi, many of them are Citroen Grand C4 Picasso's so there is plenty of room to place wheelchairs. There are many places to visit relatively close to Javea but you can also easily spend a holiday in just Javea itself. Between the port, the old town and the beaches, there is plenty to see and do. For able-bodied friends and relatives, bicycles can be hired and there is a nice ride between port, el Arenal and Cala Blanca beach which takes in the lovely sea views that Javea has to offer.
Javea is mostly serviced by apartments and villas rather than hotels, the largest hotel being Hotel Parador situated at the northern end of the promenade at El Arenal beach. There are smaller hotels in the port but these do not have accessible facilities or rooms.
We spend a lot of time in the El Arenal Beach area as it is well suited to wheelchair users due to the wide and flat promenade which gives great access to bars and restaurants. Playa El Arenal is a long sandy beach with wheelchair access via a boardwalks in the summer. In the summer months wheelchair accessible toilets are available on the beach and in 2019 there was a designated disabled area where you can use the beach with your family or friends. They provide access to the sea via a beach wheelchair. The sea was shallow and there is a slow increase in depth so bathing is a joy. There are lifeguards on duty throughout the main season.
El Arenal was well serviced with a great variety of bars and restaurants. The majority but not all, have ramps into the facilities and the hosts were always helpful. Access to seating can be straight forward and in some restaurants, there is seating directly off the promenade so powered wheelchairs could manage. In the restaurants on the Arenal promenade, there is a tendency for the ladies toilet to be the adapted accessible facilities. There were plenty of bars and restaurants at night to keep us entertained and there was always a lively and friendly atmosphere, even visitors not looking for good access would find this a good holiday destination.
The easy access in this location makes Javea a great location for anyone looking for a hassle free holiday without worrying too much about access to the facilities. In most areas footpaths are in good order although some of the dropped kerbs could be improved.
There is a fair amount of disabled parking bays and they are rarely full. Even in the height of summer, we can find a disabled access parking space. The one frustration I that they do not usually provide a dropped kerb next to the disabled parking bay and therefore Rob finds that he is forced to wheel into the road for a short distance to get to the kerb. A small omission but an important one!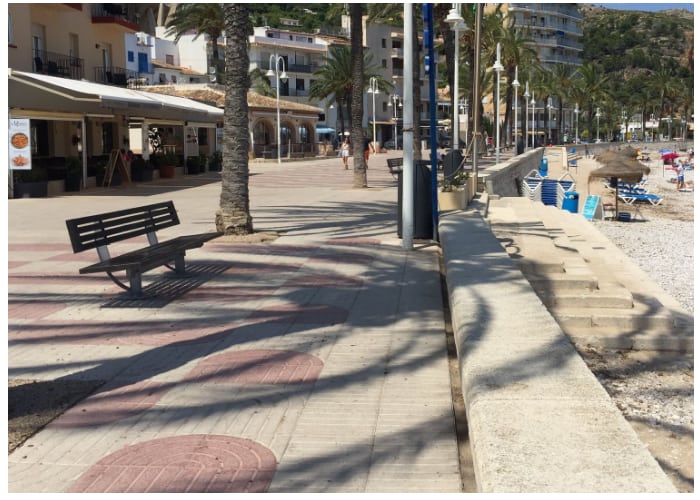 The port is more traditional and there is less choice for disabled access facilities. However, it is well worth a visit and still relatively flat near to the sea. it can get more crowded on the promenade here as it was narrower. There was a good choice of bars and restaurants here too, access is good and we had plenty of room for manoeuvre with the wheelchair.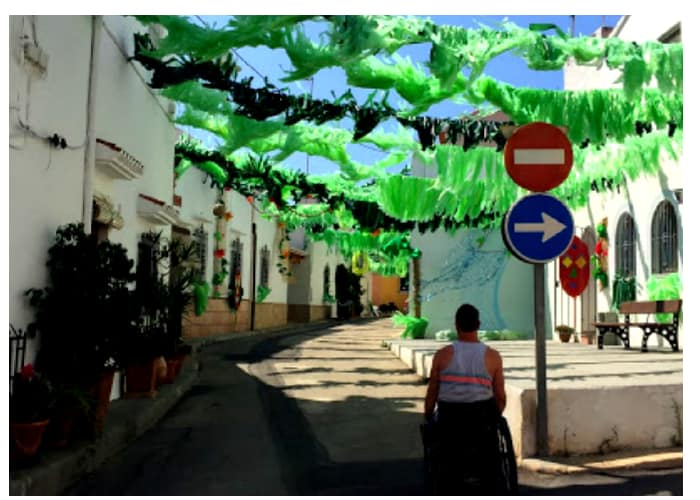 The old town is somewhere that we have visited less. It is steep climb up and the pavements are smooth and especially slippy in the summer. Once you arrive at Plaça de la Marina Alta, it is relatively flat. You can explore the beautiful cobbled streets branching off from this area and the indoor market does have a ramp to access it. However Rob requires the use of his power trike in the old town and wouldn't recommend it for manual wheelchair users.
It has far exceeded all of our expectations and it will definitely be our forever home. I have started a blog about accessibility in Javea so check it out if you are interested in seeing more. Come an visit. We'd love to show you around!
Published in Travel