La Bambula- A Wonderful Accessible Restaurant and Bar, Javea
La Bambula restaurant and bar is a real favourite of ours. We have visited La Bambula many times because it is fantastically wheelchair accessible. The view of the beach and the Montgo Mountain in the distance would be a highlight of any holiday. It has such a great vibe about it and everyone working and drinking there, who want a chilled, relaxing time. Nothing is a rush and it just all works like clockwork. There is a wide variety of food and drinks. The food is good but if you just want a drink, then it is a great place to sit and watch the world go by or listen to live music on some afternoons.
Wheelchair access tables
La Bambula is more than just wheelchair accessible. It is tastefully decorated and quite chic in design. The feeling of understated elegance. you really feel that you are visiting somewhere special and that they have thought about the disabled traveller. There are a wide variety of wheelchair accessible table types both in inside and out on the large terrace overlooking the beach. They even have a shop, Boho Boutique- really tasteful items for a great holiday purchase. Ur most recent visit was in June 2020 and there was a wide variety of different tables and seating available. During busy times in high season, that may not be the case.
Wheelchair accessible Parking
The nearest disabled parking space is in Calle Pireo however, the whole of the promenade is step-free and a great flat rolling surface so you can park in any disabled spaces behind the Arenal Beach area and then wheel to Bambula. If distance walking/rolling is an issue then the disabled space in Calle Pireo is the nearest. Once you park there, you roll towards the sea and then turn right when you reach the promenade. La Bambula is the last restaurant that you come to.
Easy Access
Access to the bar/restaurant is completely flat with a combination of wooden and tiled flooring. Inside is huge and the tables are arranged well so that access around them is very good. On the terrace outside, it could be a little difficult in the height of the busy season.
Disabled access Toilet
This restaurant has a designated disabled access toilet. It is where the normal toilets are at the far rear of the restaurant through the swing doors.
How Accesssible is La Bambula?
La Bambula has excellent accessibility for wheelchair users. Larger electric wheelchairs would also easily get around La Bambula. We cannot recommend this bar and restaurant enough. It feels as if wheelchairs have really been considered it's layout.
BREAKING NEWS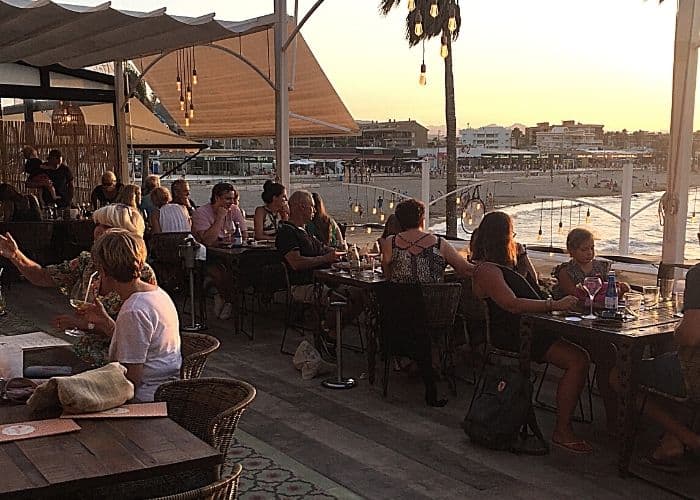 La Bambula has taken out the additional disabled toilet and fitted an accessible lift for wheelchairs and those with reduced mobility. It now opens up the large upstairs terrace for all. A great addition to an already fantastically accessible bar and restaurant in Javea. I just want to say well done!
For more information about La Bambula and other restaurants and bars in Javea, check out my blog here.
Published in Travel