Trying Japan's accessible taxis… again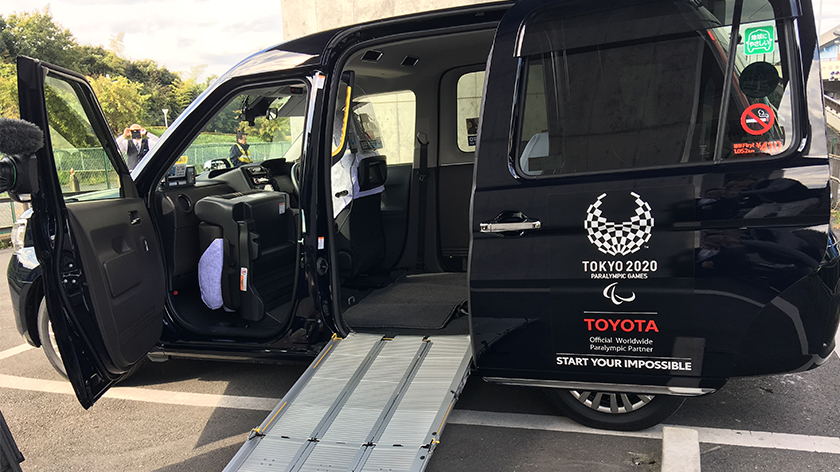 In preparation for the Tokyo 2020 Olympics and Paralympics (which hopefully will go forward in 2021!), Japan started to put more effort into accessible tourism initiatives. One of these was JpnTaxi – a taxi modelled off of the famous London Cabs, with a focus on creating a vehicle for everyone – including those with strollers and wheelchairs.
While it has become more common to see them on the streets, it hasn't been without issue:
https://fr.reuters.com/article/us-olympics-2020-japan-taxi-feature-idUSKCN1SR2M9
I rode in one a few years ago for a TV show about accessibility in Tokyo, but due to my wheelchair being electric, and taller than the hospital wheelchairs it was designed for, I had to remove my headrest and spent about 10 minutes doing a 3-point turn which was more like a 50-point turn just to get in. Obviously, they cut that from the program.
In addition to the challenges of getting in, there was a well documented problem of taxi drivers not being properly trained and even flat-out refusing rides to wheelchair users.
https://mainichi.jp/english/articles/20191113/p2a/00m/0na/017000c
The Ministry of Transportation has been warning taxi companies that that was not right, but I was doubtful it had changed. And even if it had for manual wheelchair users, I assumed drivers could use my powered "foreign" wheelchair as an excuse.
So, I avoided them.
But recently I decided to try them out at the airport – where most visitors to Japan will come across them.
At the taxi pickup area, about 1 in 5 of the taxis were Japan Taxis and I approached the first one with hesitation. To my surprise, the driver opened the door and asked if I wanted a ride. A great start! Unfortunately… he could not get the rear bench to fold up. He tried for a good 10 minutes. I'm not sure if it was lack of training or if his taxi was broken, but I started to feel bad for him wasting his time and said that it looked to be broken but thanks anyway!
Another driver (regular taxi) asked if I wanted to ride and said he would flag down the next one for me. The driver saw me and started saying that "this isn't his regular car" and he "didn't know ho to set it up" then all of a sudden these two guys in "Tokyo Taxi Agency" hats showed up and asked if I wanted a ride. When I said I did, they started lecturing the driver on my right to ride and that he couldn't turn down someone based on using a wheelchair. I was rather surprised to have that happen!
While he was getting a lecture, the other flagged down another cab. The third(!) driver was willing to give me a ride, but admitted that I was his first rider in a wheelchair since his training on the cab 1 year before. He and the Tokyo Taxi Agency staff worked through a set of printed instructions and got me in – though, I did need to tell them the ramp was flipped upside-down.
The passenger seat had a TV installed in it, so it couldn't flip all the way out of the way. Thankfully, there is an option to ride facing sideways. I thanked him frequently and he seemed to be happy to have had the experience. I also made sure I filled out a "how did we do?" survey, noting his name, and mailed it to his office. Hopefully it will encourage him to take his next rider!
So, while not ideal, power wheelchairs (and one person accompanying them) can ride in Japan Taxis, BUT you may need to encourage the driver, this will likely only change with lots of people riding them – so on your next trip try them out!
For your amusement, here is an instruction video for loading power wheelchairs featuring my friend!
Published in Travel