Cruising with a wheelchair – Venice to Katakolon
First stop on our cruise was Dubrovnik in Croatia. Unfortunately most of the shore excursions arranged by cruise lines do not include accessible transport. An exciting exception has been Alaska where Juneau, Ketchikan and Anchorage all had accessible coaches and we even went up to the Taku Glacier by helicopter from Juneau. The helicopter had a sliding seat that moved a person up into the helicopter. See https://www.tripadvisor.co.nz/ShowUserReviews-g31020-d1532508-r278900717-Era_Helicopters-Juneau_Alaska.html for my review and photo.
So no accessible shore excursions in Dubrovnik but undeterred we caught the wheelchair accessible local bus into the old town for 12 Kunas. We were able to explore the old town and its rambling streets, a highlight was a visit to the Rector's Palace and Cultural History Museum. It's a museum located in the old residence of the former rector. The building is a masterpiece in itself! It was created with beautiful Venetian-Gothic architecture, allowing you a glimpse into the past before you've even entered inside. The museum has all sorts of artwork that spans from the 15th to the 20th century. The museum provides a special wheelchair with tracks that allows wheelchair users complete access to all parts of the museum, even negotiating two flights of stairs.
Tracked wheelchair complete with operator.
Dubrovnik Old Town
Next stop was Sarande in Albania, another explore this time of the waterfront area. Back from the beach curb cuts were in short supply and even the pavements disappeared in places. The tender transfer worked well, Holland America tenders have a small ramp on the tender platform and another one inside the tender. It can be a bit hairy but the crew hold everything steady and we disconnected the power from the wheelchair so that it could be manhandled and guided by the crew. If it is too rough or windy wheelchairs are not allowed to transfer to the tenders, the captain makes the final decision!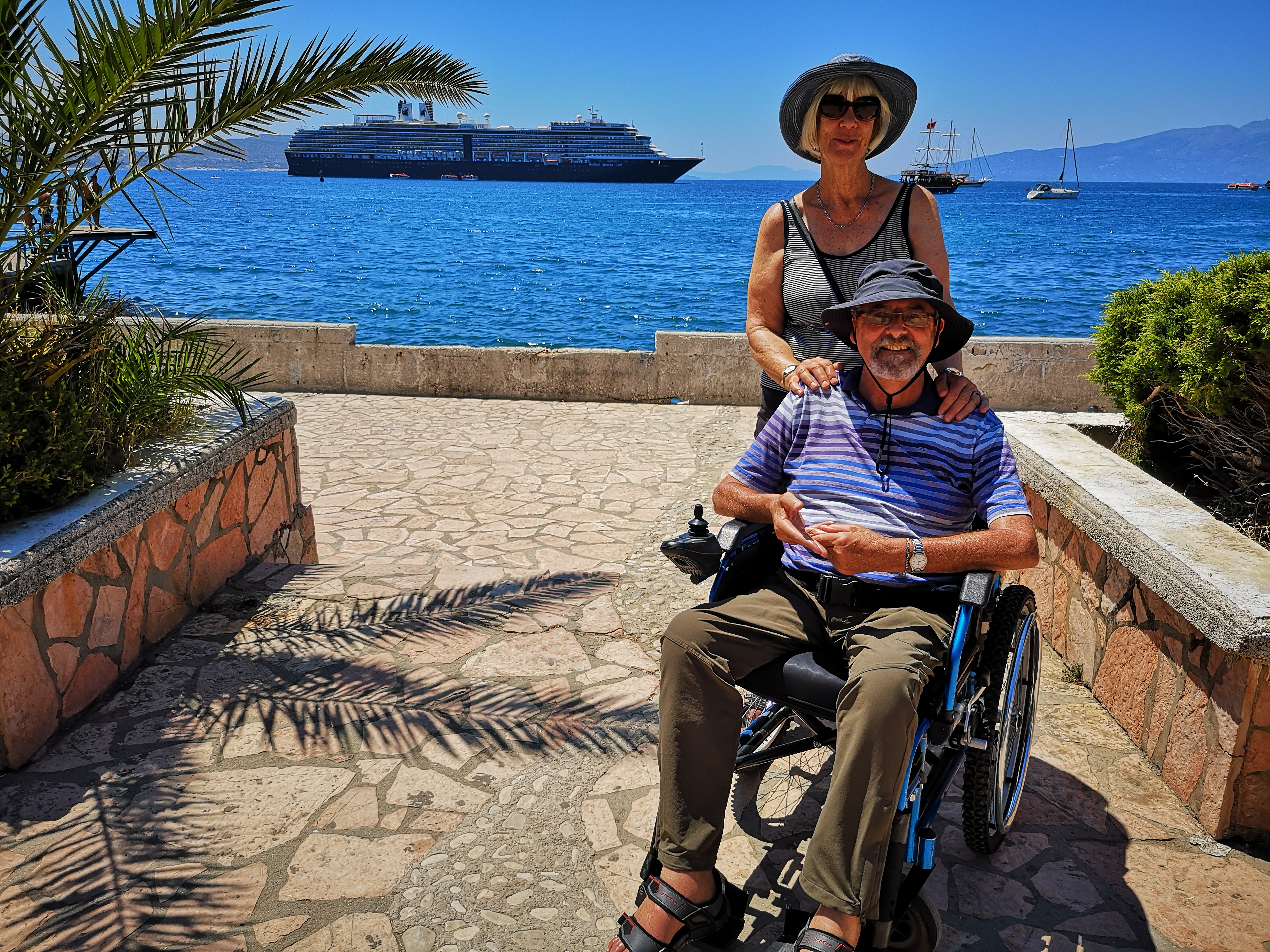 MS Oosterdam in the background.
Then we sailed on to Katakolon in Greece. We wanted to visit Olympia and arranged a private tour with a vehicle, driver and guide through Tours by Locals https://www.toursbylocals.com/ We have used the company before in Saint Petersburg and Houston and found them very good. The vehicle was not a wheelchair accessible vehicle but my husband can transfer to a car with a bit of help and our travel wheelchair folds up and can be put in the boot. The guide was excellent and was able to guide us through flat and accessible paths, all the while giving us the history and information about the site. We also visited the museum and were blown away by the ancient artifacts. Afterwards we were taken, as part of the tour, to a local home for a delicious lunch which we enjoyed sitting on the patio overlooking olive groves.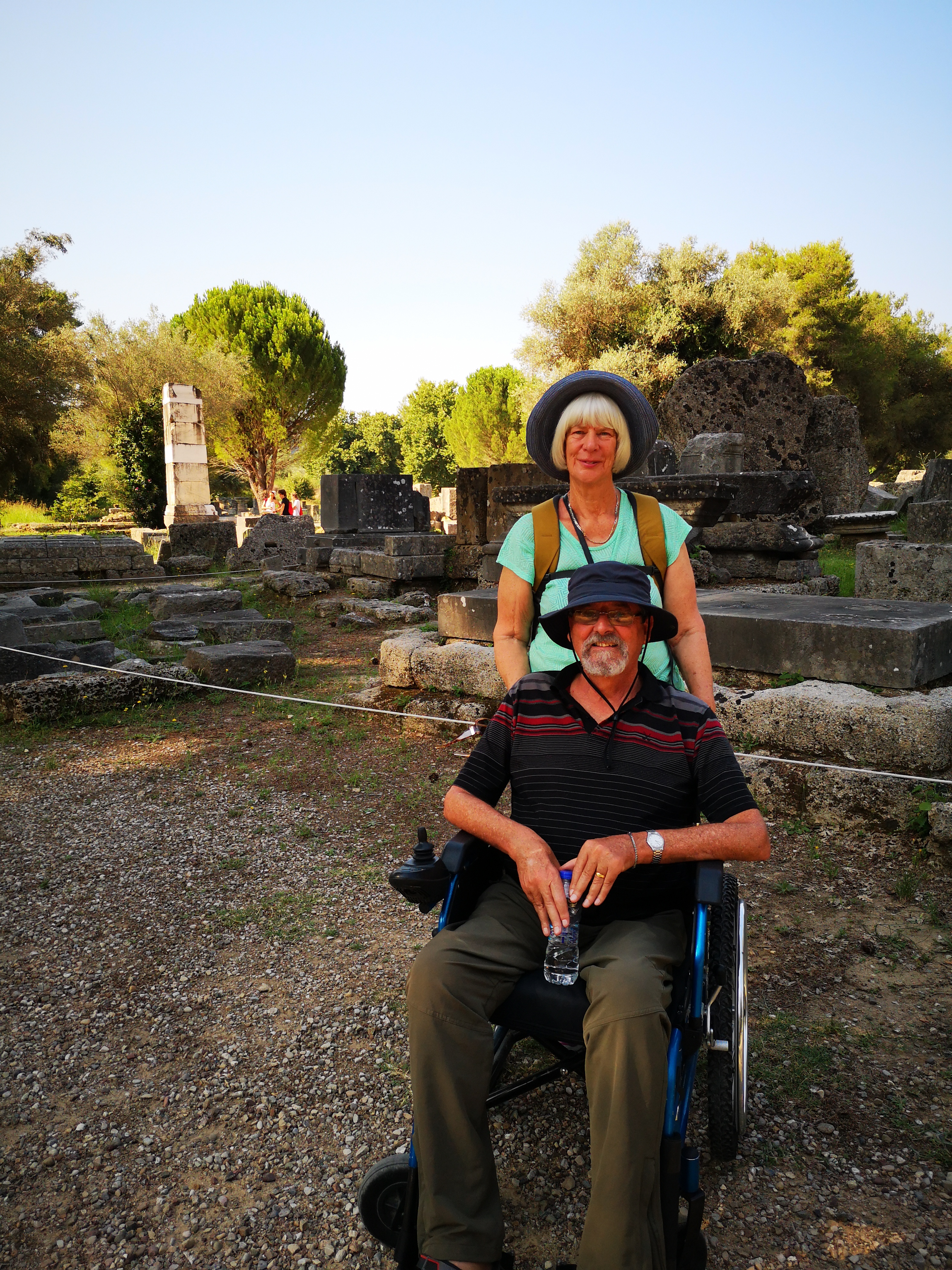 Olympia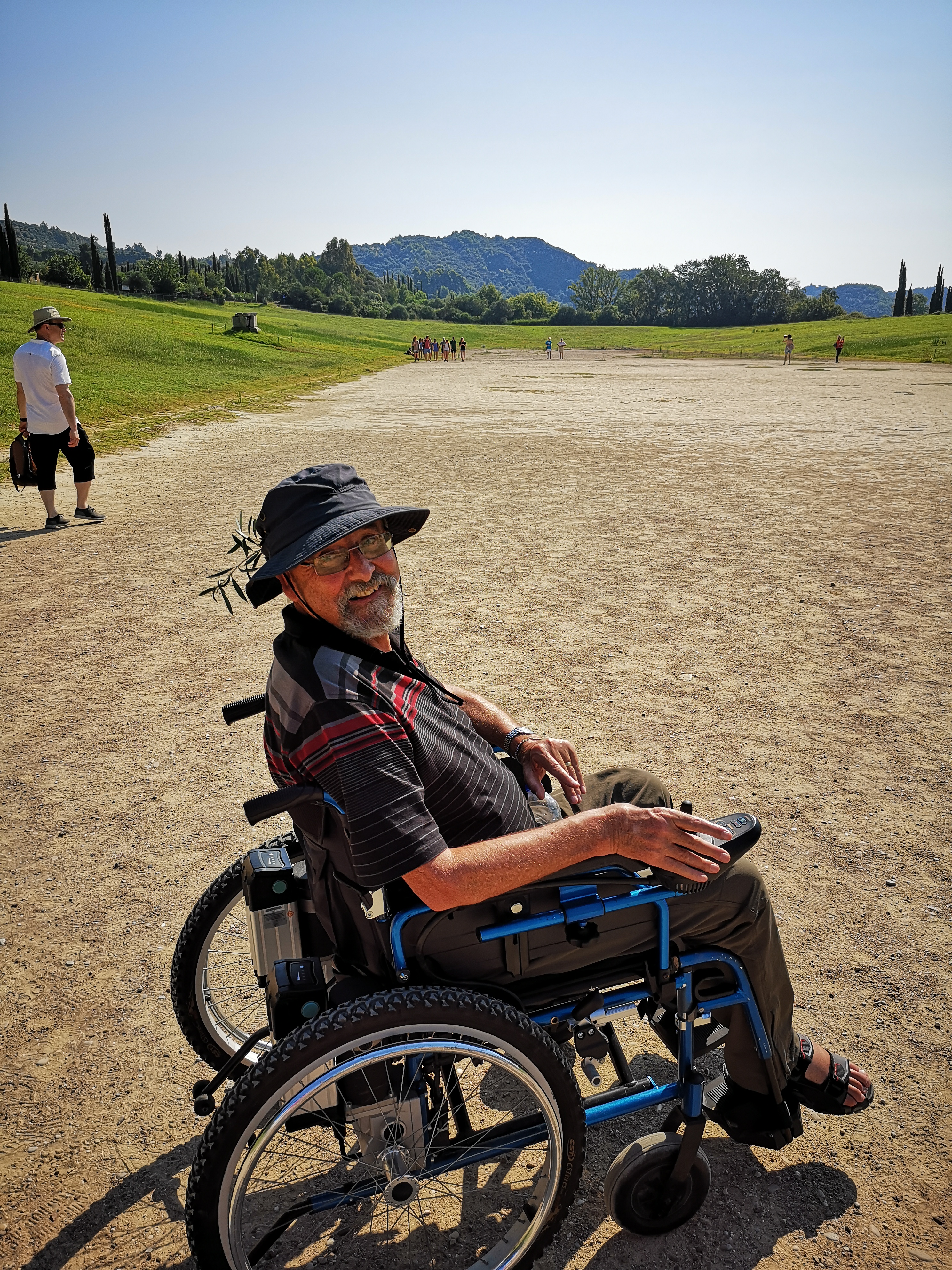 Original stadium in Olympia
Published in Destination, Personal, Travel