Enjoying Walt Disney World Despite the Heat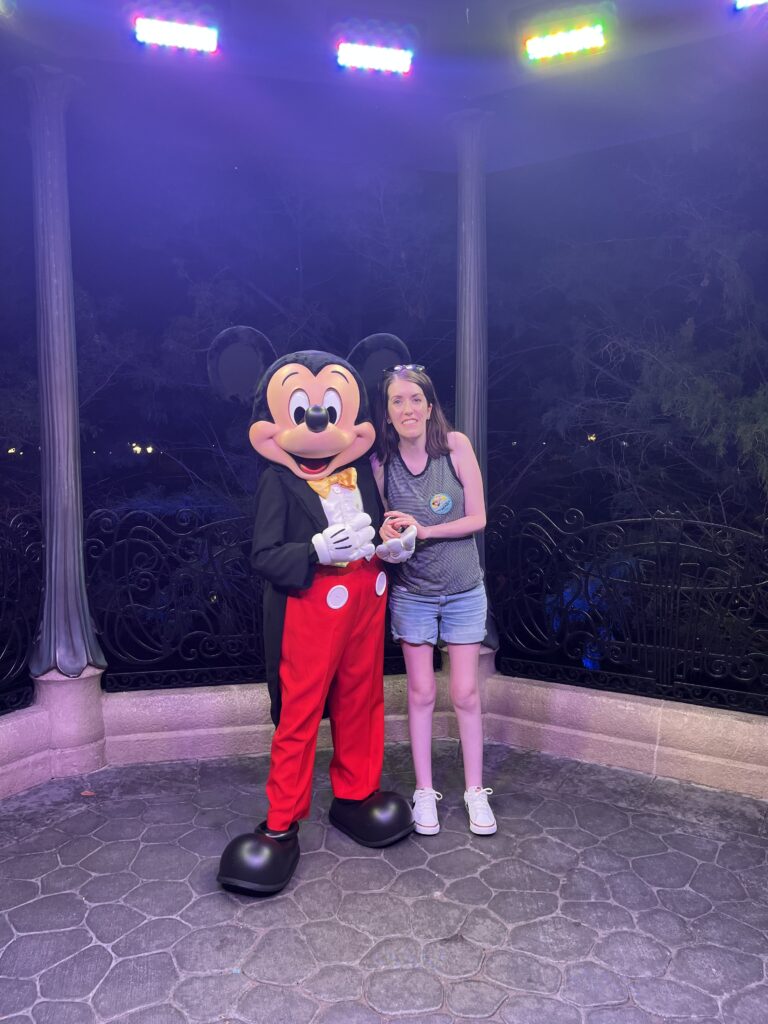 Many words come to mind when people think about Florida, but two that are common are Walt Disney World and the heat. However, it is possible to not only go to, but enjoy, Walt Disney World even if you have temperature intolerance.
While everyone's tolerance of different temperatures is unique and should be carefully considered, I will give the strategies that I have used to enjoy one of my favorite places!
I have a muscle disease and autonomic dysfunction issues, so that can quickly result in cramping in the cold and exhaustion and dehydration in the heat. Because I have these health issues, I qualify for the Disability Access Pass. This pass can be utilized by anyone that would have difficulty waiting in the oftentimes long lines. This pass allows guests to request a return time for a specific experience that is comparable to the current standby wait, and it allows guests using the DAS to enjoy other experiences in the park instead of physically waiting in the queue. Registration is available in person or through pre-registration via a live video call. The guest with the disability must be present when registering, and pre-registering allows you to pre-book two experiences. While in-person registration can provide other options, using the DAS on the My Disney Experience app for smartphones is very convenient. Besides the DAS, this app is helpful for other reasons including the ability to pre-order quick service food and drinks.
Staying on top of hydration is obviously important, but especially in Walt Disney World. Not only are you outside in the sun, but you are exerting a lot of energy and likely have some exhaustion and fatigue from travel. If you need to rest to recharge, that is how you will have the best quality vacation! If you do overdo it, it is good to know that Walt Disney World has an urgent care center right on the outskirts of the property.
Visiting in the winter months is also a good option as the daily high temperatures are less likely to be extreme. There can be some great events in the winter! Christmas is a very popular time at Walt Disney World, and in January and February they have the Festival of the Arts.
I have successfully gone during the warmer months and I used a few different strategies. One was staying in one of the hotels that offers extra hours where you can stay in the parks later at night. Along these same lines, there are After Hours Events at different parks throughout the year. These events are a separate ticket and you can't enter the park until 7 P.M. but when the park closes to regular guests at 10 P.M., those with the After Hours Events tickets can stay until 1 A.M. This option may not sound appealing if you are an early bird, but the parks are so much cooler and less crowded so it's really worth it! Another strategy is that if the temperature is going to be hot, then I opt not to do two park days in a row. There is so much to do at the resort hotels and in other areas that are more inside, like shopping at Disney Springs, that pressuring yourself to go to the parks every day in a row is not always worth it.
If you prefer to see some of this in action, I vlogged my latest trip in August! I went to three of the parks but had to skip Hollywood Studios because we were going on the Disney Cruise right after! I opted to skip Hollywood Studios out of the four parks because, in my experience, it seems to have the least amount of shade. Aside from my vlogs, which also feature accessibility reviews, I also post short-form content on Instagram. This content is all about elevating ideas about disability and rare disease through humor, education, and adventures. Let me know in the comments if you have any tips for traveling to Walt Disney World that I missed!
Published in Travel